Neighbourhood Series | 2023
Join Unwrap Theatre for a public presentation of the beautifully curated 2023 Neighbourhood Series, INSPIRATION CREATION.   
This neighbourhood concert explores what inspires our local artists through a program built around beautiful Argentinian-Canadian vocal and piano music written, composed and performed by Edith Covach, a famous scene from an opera rewritten for today's times by Aveleigh Keller, dance by Kaleigh Murphy and Alten Wilmot, and additional performances by Cassandra Amorim, Carol Ditner-Wilson and Michele Wilmot. 
The concert will be opened by Opera Queens and end with a talkback between the artists and audience to share what inspires them!   
Add some creativity and inspiration to your weekend with a FREE hour of beautiful music, dance, and discussion on Saturday, June 17th at the Waterloo Public Library Auditorium (presented in partnership with the Waterloo Public Library); or Sunday, June 18th at the Button Factory!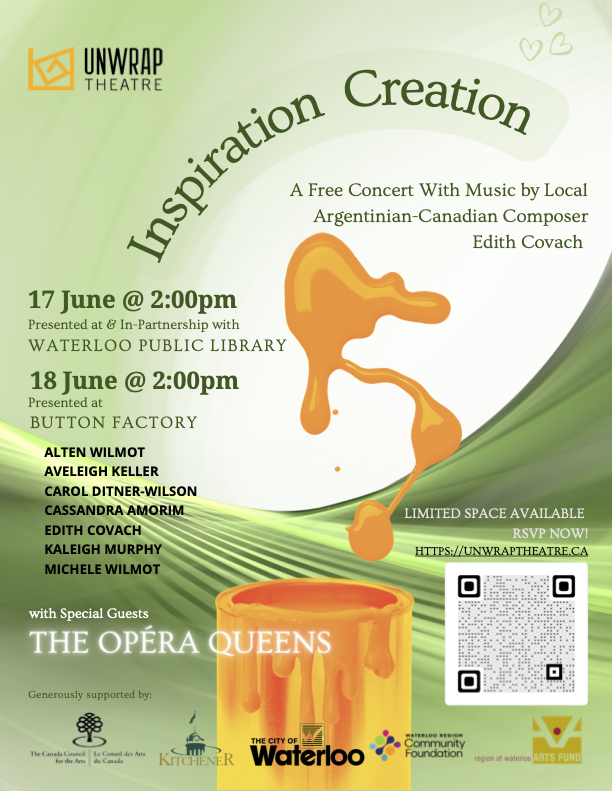 Saturday, June 17 @ 2pm
Waterloo Public Library Auditorium | 35 Albert Street, Waterloo
Sunday, June 18 @ 2pm
The Button Factory | 25 Regina St S, Waterloo
Tickets are FREE but space is LIMITED!
RSVP NOW!